DELF B2
Are you planning to appear for the DELF B2 French Exam? The DELF (Diplôme d'Études en Langue Française) is an internationally recognized certification for non-native speakers of French, and the B2 level represents an intermediate-advanced proficiency in the language. DELF B2
When you join our DELF B2 batch you develop the following French skills
Language Skills: This course will focus on developing your skills in all four language areas: listening, speaking, reading, and writing. You'll engage in various activities and exercises to improve your comprehension, speaking abilities, and written expression.
Grammar and Vocabulary: The course will cover essential grammar structures and vocabulary relevant to the B2 level. You'll learn more complex grammar concepts and expand your vocabulary to communicate effectively in different contexts.
Oral Communication: Speaking practice is a crucial part of the course. You'll participate in discussions, debates, and presentations to enhance your fluency, accuracy, and confidence in spoken French.
Reading Comprehension: You'll work on improving your reading skills by analyzing authentic texts such as articles, literary excerpts, and essays. This will help you understand different writing styles and develop strategies for comprehension.
Writing Skills: The course will provide guidance on how to write coherent and well-structured texts, including essays, reports, and formal letters. You'll learn to express your ideas clearly and develop arguments effectively.
Listening Comprehension: Listening exercises will be included to enhance your ability to understand spoken French in various contexts, such as interviews, lectures, and conversations.
Exam Preparation: Since the DELF B2 is a standardized exam, the course will familiarize you with the format and requirements of the test. You'll practice past exam papers, develop test-taking strategies, and receive feedback on your performance.
Requirements
Minimum Age: 17 years

Knowledge of French: Candidates should have a sound knowledge of French (DELF B1 level)
Batch Details
Total Duration: 100 Hours
No of sessions: 60 (Monday to Friday)
Duration of each session: 60 – 90 Minutes
Mode of instruction: Online, on Google meet.
DELF B2 Syllabus
The syllabus for the DELF B2 French exam includes a range of topics and language skills. Here is an overview of the main components typically covered in the exam:
Listening Comprehension
Understanding main ideas and specific details in various audio documents (interviews, news, speeches, etc.).
Extracting information from dialogues, monologues, and discussions.
Identifying the speaker's attitude, intentions, and opinions.
Reading Comprehension
Understanding and analyzing different types of written texts (articles, reports, editorials, literary excerpts, etc.).
Identifying main ideas, supporting details, and implied meaning.
Inferring information from the context.
Understanding the author's tone, style, and purpose.
Written Expression
Writing clear and coherent texts in different formats, such as essays, reports, letters, or formal emails.
Structuring ideas logically and using appropriate linking words.
Expressing opinions, arguments, and supporting evidence.
Demonstrating a good command of grammar, vocabulary, and spelling
Oral Expression
Engaging in conversations and discussions on various topics.
Presenting and defending opinions, ideas, and arguments.
Describing experiences, events, and personal stories.
Reacting and responding appropriately to different situations.
Using correct pronunciation, intonation, and fluency.
Grammar and Vocabulary
Demonstrating a solid understanding of advanced grammar structures and concepts.
Using a wide range of vocabulary appropriate for different contexts and topics.
Applying correct verb tenses, prepositions, and conjunctions.
Recognizing idiomatic expressions and phrasal verbs.
It's important to note that the specific topics and tasks within each component may vary from one exam session to another. However, the general language proficiency and skills assessed at the B2 level remain consistent. To prepare effectively for the exam, we consult official DELF B2 preparation materials, including sample papers, textbooks, and online resources.
For more information about DELF, DALF and details about French language Diploma and certification, visit DELF-DALF.
Please refer to the DELF DALF exam schedule in India in 2023 for the Exam Schedule at your nearest city.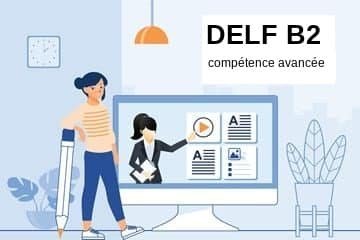 Upcoming Batches
DELF B2
Starting from
:
25/07/2023
Ending on
:
22/10/2023
Batch time
:
8:30 am to 10:00 am
Mode
:
Online
Remarks
:
Live sessions will be conducted 5 days a week (Mon to Fri), on Google Meet.
Registration Status
:

Open

Course Fee
:

₹

33,000/-

GST (18%) applicable on above cost.

Register Now